Easter is coming — and that means it's almost time to indulge in chocolate eggs and bunnies!
Before you rush to the shop for your chocolate Easter eggs, spare a thought for what's inside those eggs. Because whether you care about the sustainability of our planet, ending cruelty to animals, protecting your own health, or whether you just enjoy really good chocolate, you may want to consider choosing dairy-free.
Here's why:
If you need another reason to eat chocolate, this is it! Dairy-free dark chocolate is high in antioxidants and can even help protect arteries from plaque formation — meaning, in moderation, it is good for your heart! However, you'll only reap these rewards if you avoid dairy altogether. Dairy milk chocolate, dairy white chocolate, or consuming any dairy with dark chocolate can negate these sweet health benefits.
Don't let the dairy industry pull your leg about healthy bones. Not only is dairy not the only source of calcium — but other sources may actually be much healthier for you! Click here to get the low-down on calcium, and find out which foods are great for your bones, and kind to calves…
Unbeknownst to many Australian dairy consumers, hundreds of thousands of dairy calves (called 'bobby calves') are discarded and killed as 'waste products' of the dairy industry every year. Born only to keep their mothers producing milk, it is standard industry practice for these babies to be separated from their grieving mums and killed before they are one week old. Going dairy-free means chocolate need not be a death sentence for dairy calves. If you'd like to learn more about the plight of bobby calves, click here.
Producing dairy is taking its toll on the environment. Dairy cows are responsible for approximately 3% of all global greenhouse gas emissions (mostly through methane). Perhaps even more shocking, the Australian dairy herd produces more excrement than the entire Australian human population every day! And it's not just their output that poses a problem — dairy production also consumes a whopping 12% of all the water used in Australia. On the driest inhabited continent on earth, where water is an increasingly precious resource — going dairy-free simply makes ecological sense. Find out more about dairy's environmental footprint here.
No need to take our word for it — if you're a fan of chocolate then do yourself a favour and sample a few varieties this Easter … Most quality dark chocolates are naturally dairy-free too, like Whittaker's Dark Chocolates, Green & Black's 70% and above, and Lindt 70% and above. Check out this video for extra guidance on dairy-free Easter chocolates.
Here are some of our favourite Easter treats…
Lindt dark chocolate bunny
These cute little guys are smooth, delicious and readily available in supermarkets. (Just note, only the dark bunnies are dairy-free!)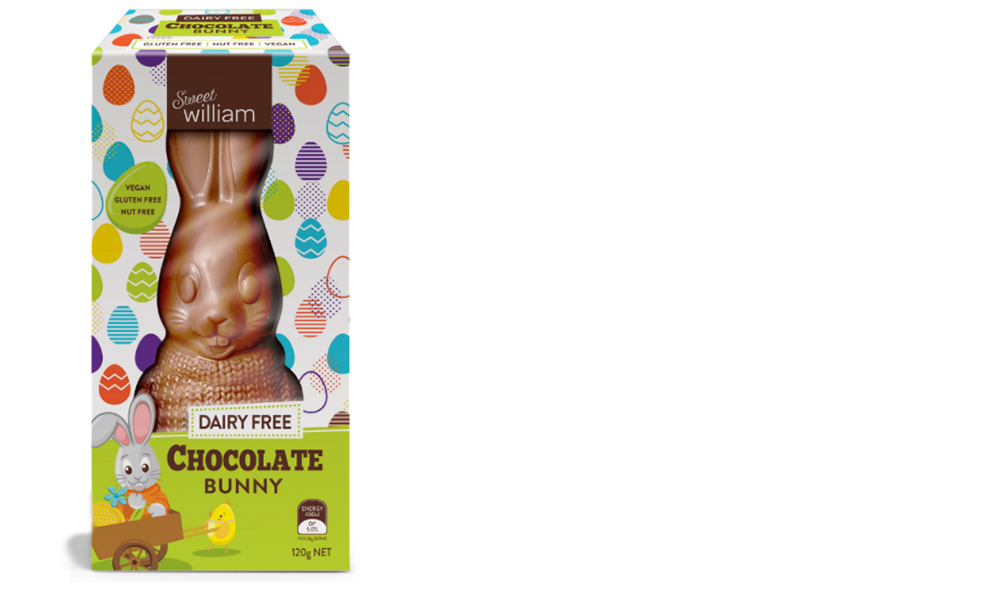 Sweet William chocolate bunnies

Sweet William is wholly dedicated to producing deliciously dairy-free chocolate. (It also happens to be gluten-free and nut-free so perfect for those with allergy concerns!) They have a traditional hollow chocolate bunny you can find at ALDI and Coles. They also have large hollow eggs and individually wrapped mini bunnies available at Coles, Woolworths, IGA supermarkets, and some pharmacies and health food stores. Click here for Australian stockists.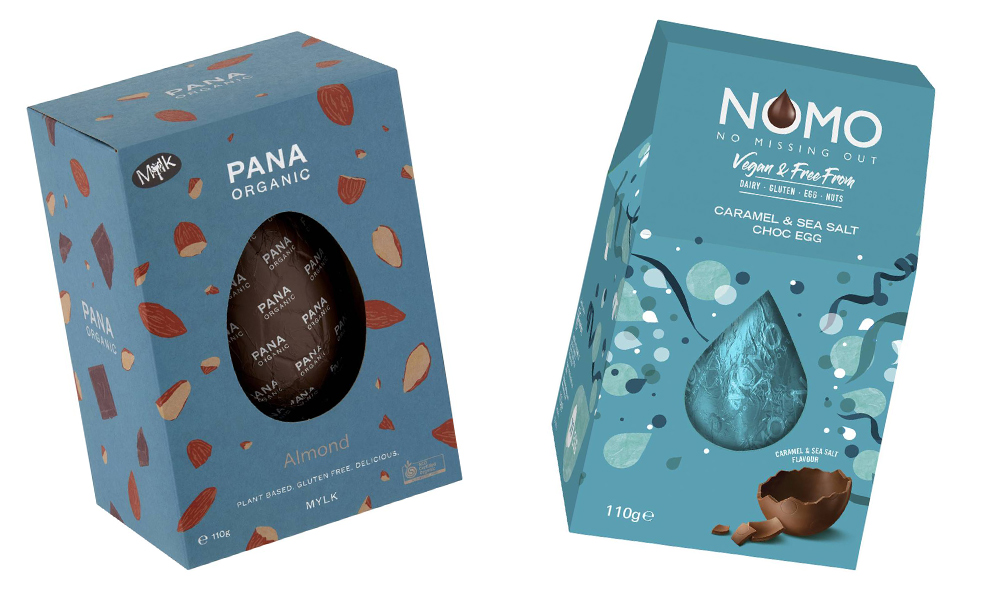 PANA & NOMO's chocolate eggs
PANA & NOMO are two fabulous chocolate producers also dedicated to creating exclusively dairy-free treats. And they're bringing out the goods for Easter with some specialty chocolate eggs that are sure to impress. Available at Woolworths and other select shops.
Alpha's colourfully wrapped chocolate eggs

Here's something to get eggcited about! Alpha have a range of fine dairy-free chocolates including large and small eggs. Look out for them at David Jones or in the wide range of delicious dairy-free Easter treats at The Cruelty Free Shop.
Snickers, Bounty, Milky Way and Mars Bar Doppelgängers (and more!)
We are lucky indeed that these delights by GoMaxGo have made their way over to Australia — they are dairy-free versions of all your favourite candy bar classics. And they are perhaps more delicious and decadent! If you're lucky, your local health food/specialty store will stock them; or you can pick them up from The Cruelty Free Shop.
DIY Chocolates!

There's nothing quite like making your own chocolates — and it's super easy! Melt your favourite dairy-free chocolate bar in a glass bowl sitting in a pot of shallow boiling water, then scoop the melted chocolate into chocolate moulds and maybe pop some roasted nuts in the centres (macadamias are divine!). Cover with sprinkled crushed nuts or desiccated coconut if you like, and leave to cool.
If you're feeling more adventurous, you can even make your own vegan Creme Eggs!
Here are a few chocolate brands to look out for to help you get the richest, creamiest result:
Whittaker's Dark Chocolate Block :dash: in the confectionery aisle of most supermarkets.
Sweet William :dash: their range of chocolate bars are in most supermarkets. They do white chocolate bars too!
Loving Earth :dash: fair trade, Australian-made, and lots of delicious varieties. At some supermarkets and many heath food stores.
Bonvita Rice Milk Chocolate :dash: also fair trade, and they make an excellent white chocolate! At health food & specialty stores.
Have a very chocolatey — and kind — Easter!
---
More in this section: