Animals International's evidence of a Brazilian bull's heart-breaking final moments in Egypt helped inspire a historic legal ruling that could ultimately spare hundreds of thousands of other animals his sad fate. [Updated]
UPDATE 6 Feb 2018: Suspension lifted but the fight for animals continues
Just hours ago, the injunction halting live export from Brazil was lifted. This is not surprising considering the exporters have powerful political allies and they were always going to fight tooth and nail to keep their trade.
But with the historic Federal Court case examining the 'merits' of Brazil's live export trade still pending, our fight to spare animals from the misery of live export continues.
Thanks to the generosity of our global supporter base over the past 24 hours, our investigators are on the ground right now gathering the evidence needed to give this case the best possible chance of success.
This is just the beginning. People everywhere are mobilising on behalf of animals. You can join them by donating to keep our investigators in the field where animals need them most.
---
Last year in Egypt, through Animals Australia's global arm, Animals International, we documented the harrowing final moments of a bruised, bloodied and frightened bull sent there from Brazil to be killed for his meat. Stabbed in the eyes, his leg tendons slashed to the bone — what he endured was nightmarish. And now, those responsible for his suffering are finally being called to account.
The Federal Court in Brazil used evidence of his abuse to suspend all live animal exports from the country, determining that live export does not reflect Brazil's animal protection laws or its societal values, nor does it satisfy international standards to which Brazil is a signatory.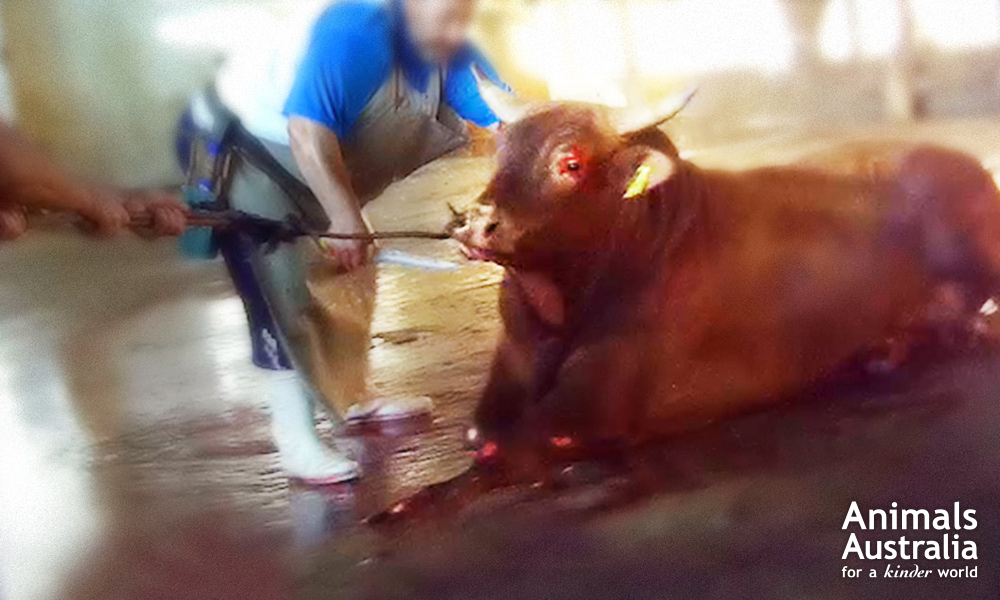 Our evidence of the final, heart-wrenching moments of this Brazilian bull in Egypt helped convince a judge to halt live exports from Brazil.
Just 12 months ago, live export was a little known issue in Brazil. Yet as one of the world's major exporting nations, hundreds of thousands of animals were being subjected to this global trade in misery every year.
The evidence gathered by our investigators in the most gruelling and distressing of circumstances led us to forming powerful alliances with animal advocates in Brazil, including with the country's leading animal protection group, Forum Animal. It was their petition to the Federal Court over the weekend that sparked this watershed moment in our global campaign to end live export.
Brazil's Federal Court ruling demonstrates that when the live export trade is viewed through independent eyes — through a lens devoid of politics and self-interest — the unnecessary suffering is obvious.
As
the industry increases the pressure on Brazil to reverse this decision, we urgently
need to keep our investigators in the field to gather the evidence needed to
secure a permanent ban on this trade in animal misery.
Keep our investigators on the ground where animals need them most
Without the support of caring people empowering our Investigations Unit, this bull's suffering would have remained hidden, and this historic legal ruling might have remained out of reach.
Our investigators are reading and willing… Please consider a donation to our Investigations Unit today.
---