Want to know who has stopped using eggs from cages?
Hens who are stuck in cages are forced to live in a space with less room than an A4 sheet of paper. They are unable to spread their wings, exercise, or move around. Many live with broken bones, and because they're packed so close to each other they do not receive the individual care they need. They are also unable to express their personality or engage in their natural behaviours like perching, dust bathing and nesting.
Every hen is an individual.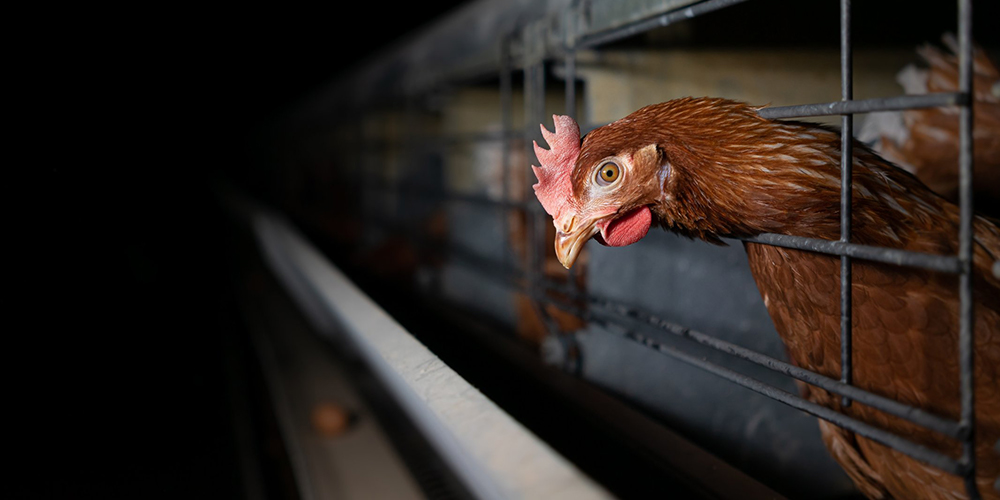 There has been a dramatic increase in the number of businesses which have stopped using cage eggs, which means now you have even more options to vote with your wallet. From hotel chains to fast food restaurants to supermarkets. To help you decide where you'd like to spend your money we've listed a few that have already made a commitment to go cage free:
Supermarkets
Let's start with some of the bigger ones. Coles sells almost a billion shell eggs a year. Woolworths sales total a similar number. Both have already switched their own branded eggs to be cage free and are working towards all the eggs they sell to be cage free (Coles by 2023 and Woolies by 2025). Combined, this will see the removal of about 6 million hens from cages.
In addition, both have also committed to only source cage free eggs as ingredients in their own branded products in a similar timeline. This will include items from their bakeries, mayonnaise, and many other products.
Aldi have also committed to phase out all caged shell eggs by 2025. Unfortunately, though, Aldi are still yet to do the same for eggs used as an ingredient in their products.
Allied Pinnacle
Okay, there's a good chance you haven't heard of Allied Pinnacle. But every year this food manufacturer uses over 40 million eggs. Amongst other things, they supply Coles and Woolies with products for their bakeries — you've almost certainly eaten their bread before! Allied Pinnacle are already using cage free eggs in a quarter of their products and they will remove all cage eggs from their entire supply chain by 2023, freeing 130,000 hens from a life of severe confinement.
Fast food chains
More and more fast food chains have already entirely removed caged eggs from their menu. In 2016 Hungry Jack's decision to go cage free saw 37,000 hens released from cages, whilst in 2017 McDonald's effectively released over 300,000 hens. Nandos and Oporto stopped using caged eggs in 2013 and 2018 respectively. And newcomer Schnitz, one of Australia's fastest growing food chains, went cage free earlier this year.
Patties
The world's largest savory pie maker stopped using cage eggs in Australia in January 2019. This includes their own brands, but also others that they own as well (Four'n Twenty and Nanna's amongst others). Even better, Patties have started selling some plant-based options as well.
Hotels
After global campaigns run by the Open Wing Alliance, Best Western, Marriott, Hilton, and Wyndham hotel chains have all made commitments to no longer use cage eggs in the future. Accor and Intercontinental hotels are also currently phasing out the use of cage eggs in Australia.
Goodman Fielder
Goodman Fielder might not be a household name, but Praise Mayonnaise (who they own) is. All Praise products in Australia and New Zealand no longer use cage eggs. In the rest of Goodman Fielder's products, only 1% of the eggs they use are currently sourced from cages, and this will become 0% in 2020.
Bidfood
And lastly we couldn't have written this piece without talking about Bidfood. Bidfood is one of the biggest food service providers in Australia supplying restaurants, cafes, hospitals, hotels and schools. You will have almost certainly ordered some of their food products at cafes or restaurants you've been to. They have committed to eliminate caged eggs from its supply chain by 2025 representing a whopping 300,000 hens that will no longer be forced to live in cages.
With more businesses choosing to go cage free your choice of where to shop is more powerful than ever. And if you'd like to see a larger list of those businesses who have made a commitment to phase out the use of cage eggs check out our longer list here.
We've also got a list of businesses who haven't yet made that commitment.
And, of course, the best way to avoid any cruelty to egg-laying hens is to avoid eggs entirely. Check out our explainer here that goes into a bit more information.