As bushfires ravaged Australia, it would have been understandable to give in to despair… But, as these tales tell, where there is compassion — there is hope. Here's how your kind support of our bushfire response has been helping animals:
While large parts of our country were enveloped in choking smoke, and the bushfire crisis extended month after heartbreaking month, caring people like you the world over continued to extend their hands in friendship and generosity to those in need, human and animal alike.
The situation on the firegrounds changed constantly as new dangers and challenges arose. But, thanks to you, we at Animals Australia were determined to face every adversity head on and do justice to the belief and funds entrusted to us by so many of our compassionate supporters.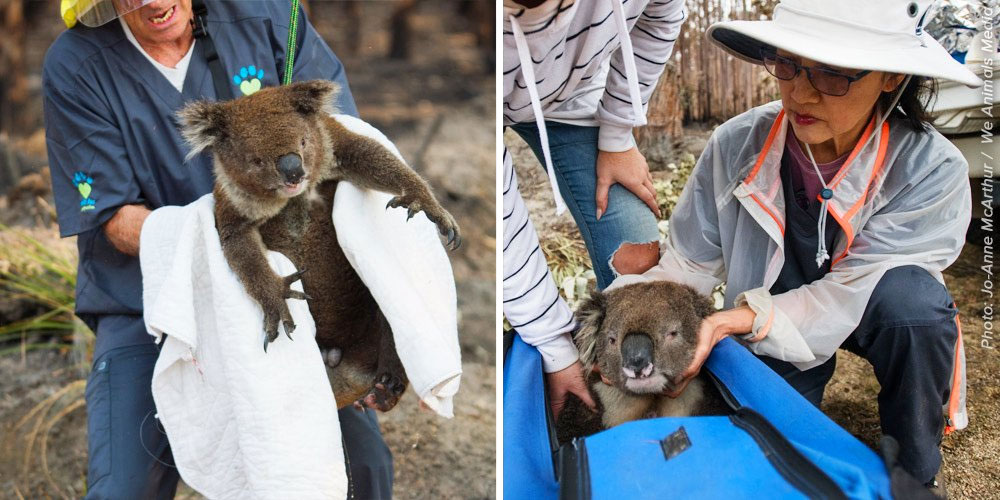 Unafraid and willing to travel wherever animals are in need, these brave vets we helped deploy — led by Dr Elaine Ong and Dr Chris Barton of Vets for Compassion — have been scouring the firegrounds, rescuing and treating surviving animals, and ensuring local wildlife carers have the support and resources they need.
[PLUGIN type="esubform" bid="3012″ pic="koala" text="Subscribe to E-updates and help create a kinder world:"]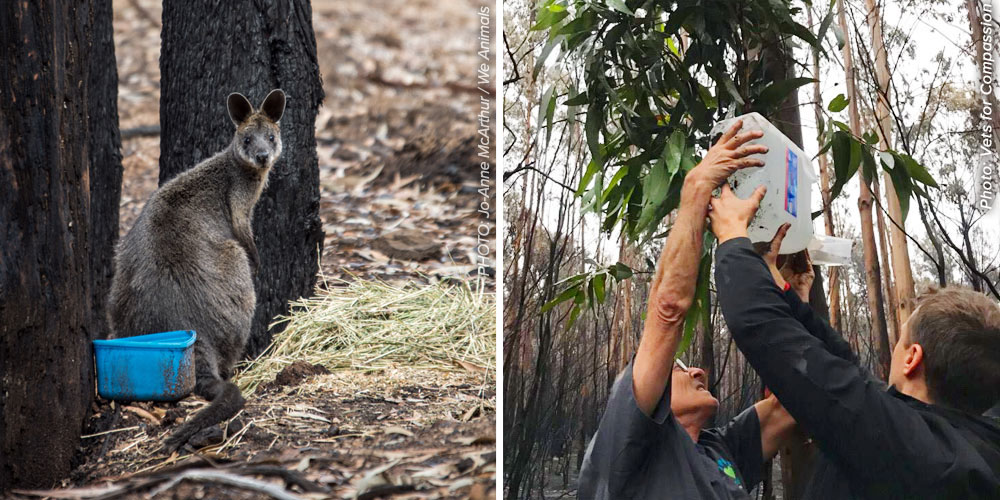 Many animals who had survived the fires were then faced with a burnt landscape of dead trees and no water. What we witnessed in response to this was nothing short of remarkable. A veritable army of community volunteers, who wanted to do more for wildlife in their fire affected areas, banded together and began support feeding animals who'd lost everything. Thanks to your support, we funded their tireless efforts to set up life-saving food and water stations for survivors, and ongoing monitoring to ensure that surviving wildlife had a reliable source of food for the months to come.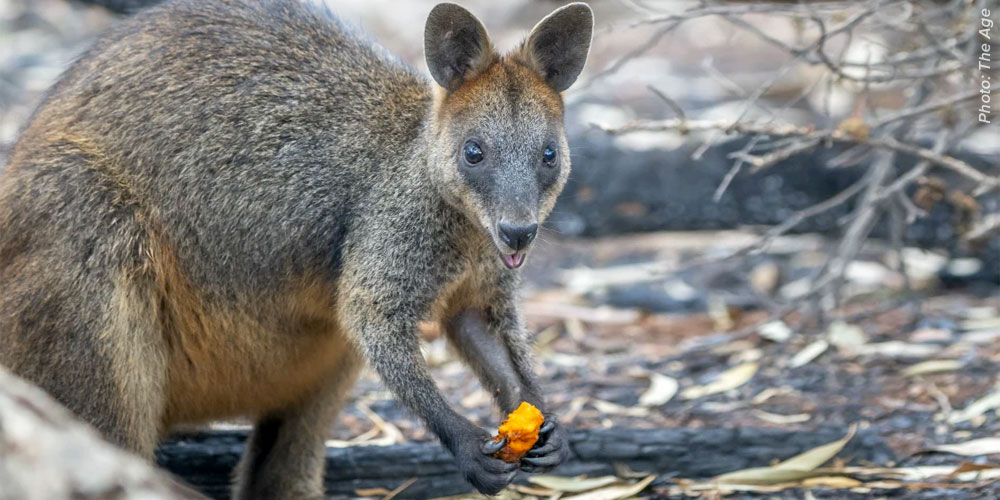 Caring Animals Australia supporters jumped into action and appealed to the Victorian government to urgently begin aerial food drops to wildlife who had somehow survived ferocious bushfires — only to face dying of starvation. Compassion won the day as the government began food drops within days to remote locations vets and carers had been unable to reach.
This unprecedented government intervention on behalf of animals occurred only because good people united to help ensure that our collective voice on behalf of animals could not be ignored.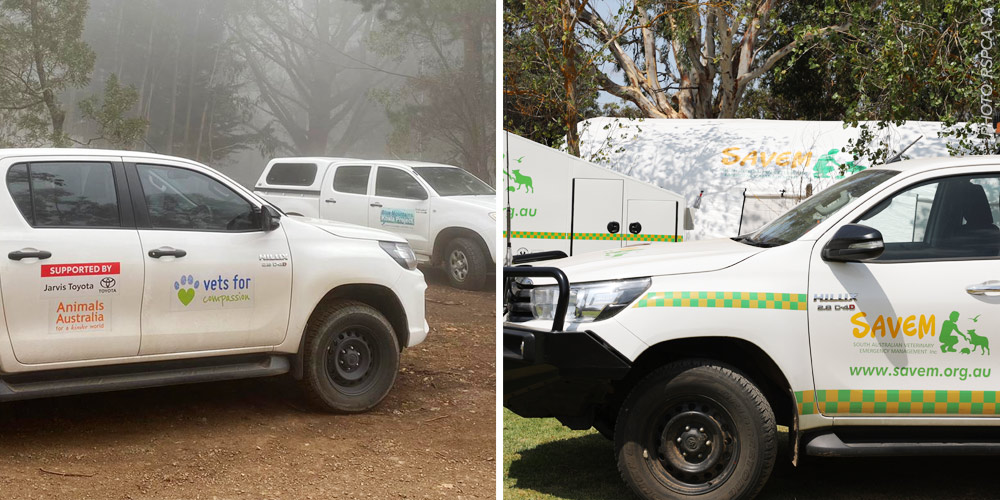 Six 4WD vehicles have been delivered to support volunteer wildlife rescue and veterinary teams in South Australia, Victoria and New South Wales. These vehicles increase their capacity to find and help wildlife animals in difficult to reach or fire-affected areas.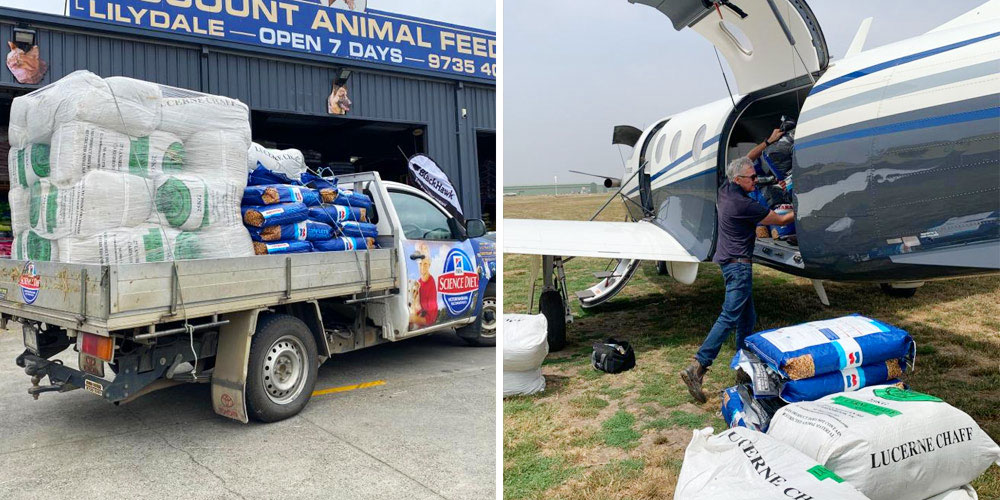 We chartered private planes to deliver tonnes of kangaroo food, to Mallacoota and surrounds — a fire-ravaged area that had no road access for weeks. The surviving animals needed support feeding until the grass — their critical food source — returned.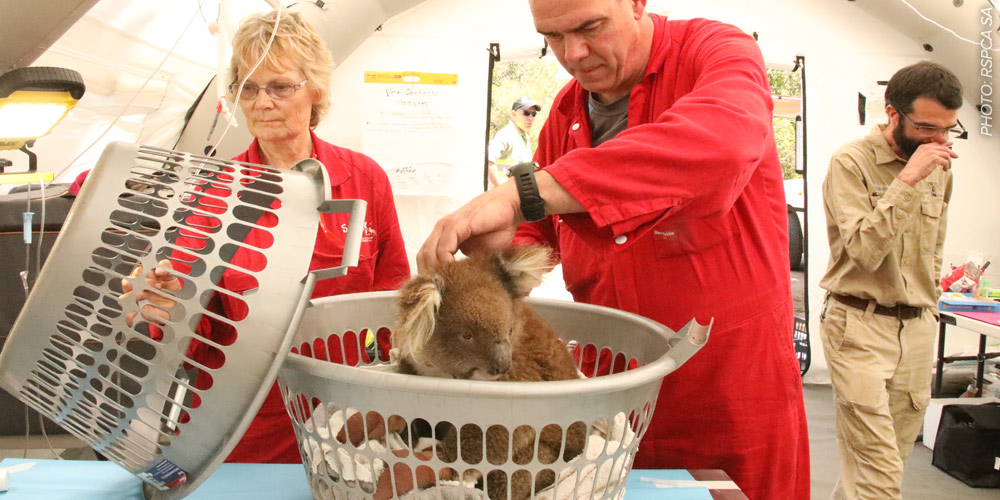 We've been channelling your donations directly to vets in fire-affected areas, including to SAVEM (South Australian Veterinary Emergency Management) who have had specialist vets on badly-hit Kangaroo Island in South Australia, Southern Cross Wildlife Care in Southern NSW and to Vets Beyond Borders who deployed volunteer vets to help animals in the Adelaide Hills.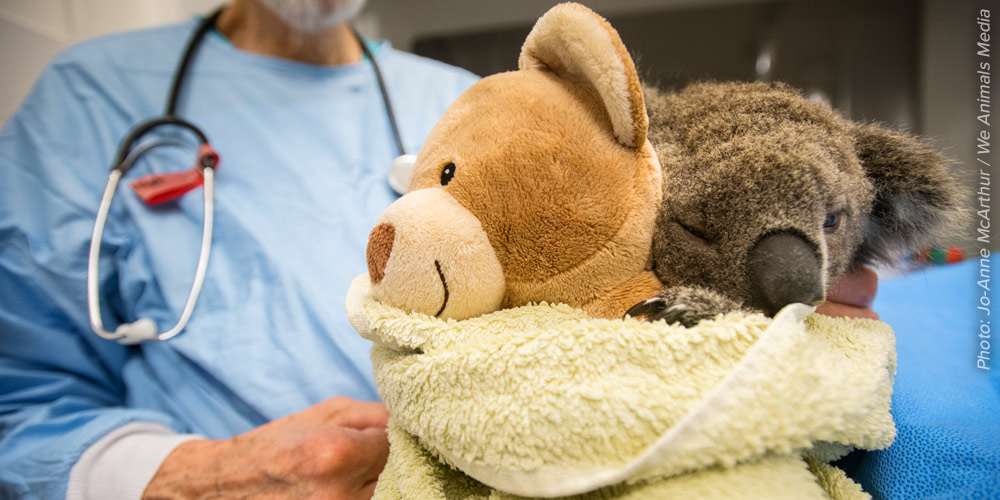 We were proud to fund the Foundation for National Parks' 'Wildlife Heroes Emergency Fund', to get emergency funding to carers and shelter across the country. So if you know a wildlife carer or vet in the bushfire regions in need of financial support (or are one yourself!) please pass this on: Click here to find out how to apply for an emergency carers grant.
The life-saving veterinarian in this photo is Dr. Howard Ralph of Southern Cross Wildlife Care. You can support their incredible and inspiring efforts to rescue and rehabilitate bushfire- and drought-affected animals here.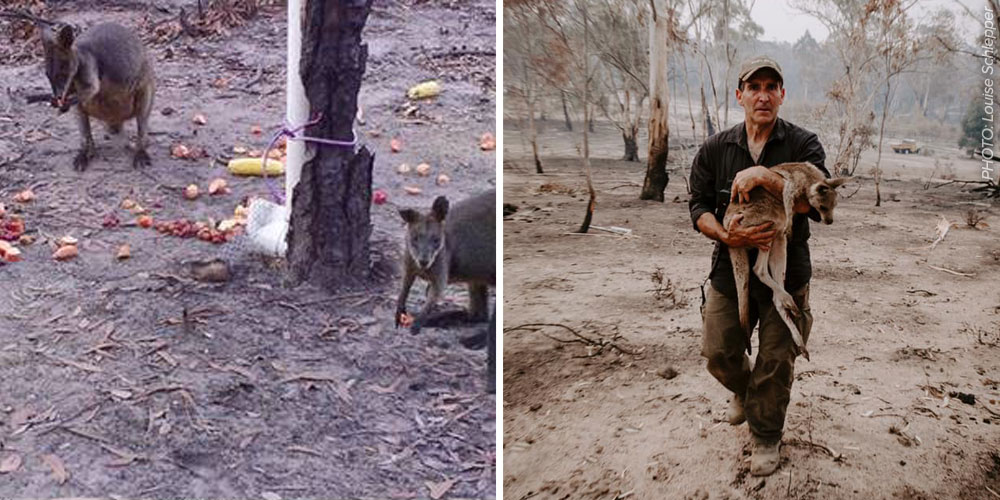 In addition to providing grant funding, we've distributed your donations directly to some of the groups and individual wildlife carers in some of the worst fire-affected areas, providing immediate and meaningful support to animals in need. This has included food drops, water provision and maintenance, supporting expert darters to capture and transport animals, and search-and-rescue operations on private property.
In addition to assisting vets, carers and volunteers, we have also been engaging in emergency talks with decision-makers and political leaders. This engagement has been critical in providing intelligence from the firegrounds, guidance to assist in their emergency operations, helping establish government vet triage centres to remote areas, and importantly, ensuring that the protection and preservation of surviving wildlife remains front of mind for them.
It's all thanks to the support of caring people around the world, we have been able to throw ourselves into strategic mobilisation, raising awareness and channelling donations to where they are most needed — all to allow the many heroic vets, carers and rescuers to focus on what they do best: saving animals' lives.
When disaster strikes, look for the helpers…
Our heartfelt gratitude to everyone who has united in this global effort to help animals affected by these devastating fires.
Once all fires are contained, Australia will be facing a new challenge, with some 10 million hectares of land — once the habitat for our native animals — now a blackened landscape.
The essential renewal of the natural environment — the reawakening of life in the bush, in the forests, fields, mountains and coastal plains, to provide habitats, homes and food sources for surviving wildlife — will take dedicated work over many months, and likely years.
We are committed to being part of the healing process for the long haul — because animals need us to be. We hope you'll continue to stand with us.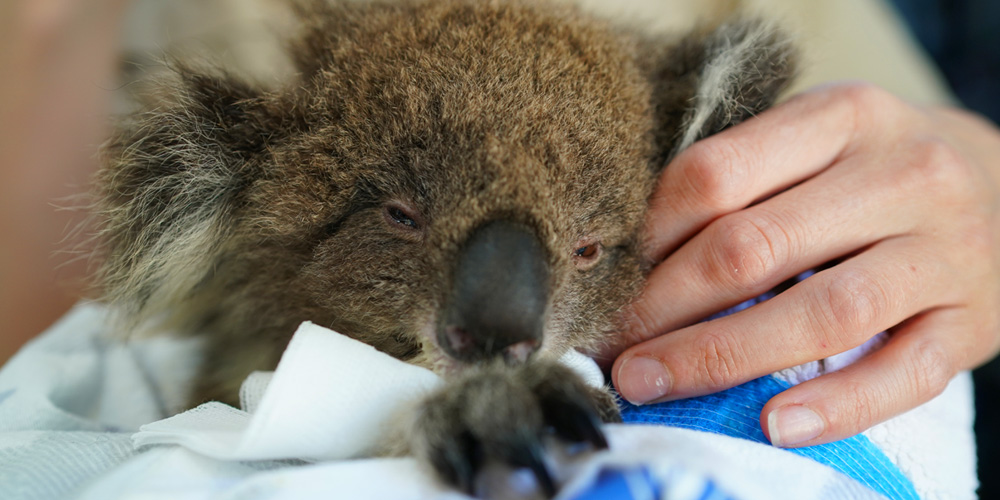 This time of climate emergency will require all of us to come together now, more than ever, to forge a path forward, and to develop meaningful solutions to the increasingly dangerous and volatile world in which we live. Thankfully, when compassionate people unite, there is no limit to what we can achieve. Together, we can help regenerate these firegrounds for the future and greater good of animals, people and the country alike.
Help create a compassionate future — for everyone
---
PHOTO CREDIT: The baby wombat joey featured at the top of this page was rescued on the south coast of New South Wales, and is now in the tender care of Sydney Wildlife.