Whether you're grabbing a burger with friends, treating your family to a fancy night out, or just want something quick to eat on your lunch break — here are our top 3 tips for finding veg-friendly food just about everywhere.
1. Happy Cow
We highly recommend that you bookmark the Happy Cow homepage right now. It's an (ever-growing!) directory of great places to eat with proudly meat-free menus. Simply enter your suburb, and it will help you track down veg-friendly options in the area. Easy!

You can help make the Happy Cow online community even better by leaving reviews and comments, or recommending your own favourite places to enjoy a yummy meat-free meal.
2. Say (hold the) cheese
If you're not in charge of choosing where you're going to grab a bite, don't panic! Just about every restaurant (even Nandos!) can cater to those who are choosing to leave animals off their plates.
Whether you're craving flavours from the Middle East, Mexico, or anywhere in-between, you should be able to get yourself an awesome veg-friendly meal no matter where you go. Sometimes building yourself a mini-smorgasbord of side dishes can be fun or, with a few simple tweaks, you can take a standard menu item and make it 100% veg.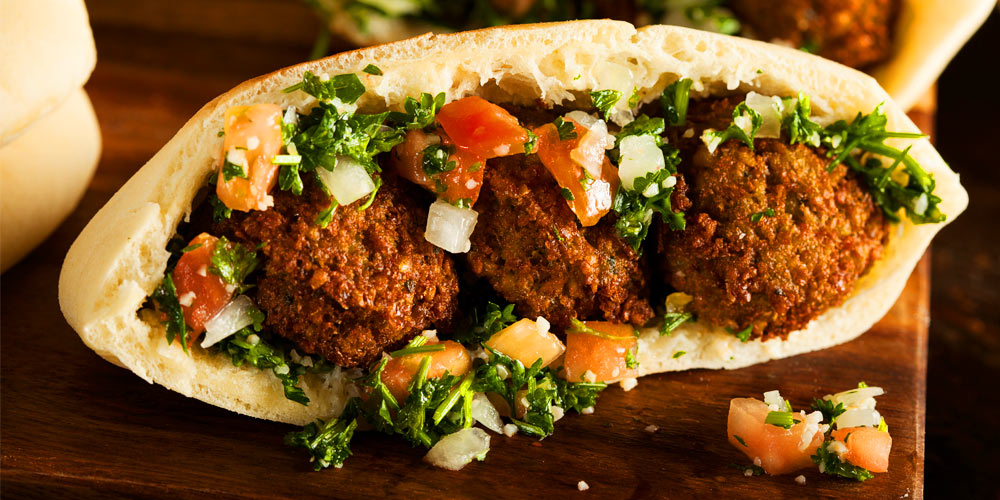 What about a fluffy Turkish bread wrap, stuffed full of tabbouleh, falafel and hommus? Skip the dairy-filled tzatziki — or ask if they've got a coconut yoghurt version!
Many Indonesian, Vietnamese and Thai dishes from rice paper rolls to stir-fries, noodles and creamy coconut curries are often animal-free already (just check that the stock is vegetarian and there's no sneaky fish sauce or shrimp paste added).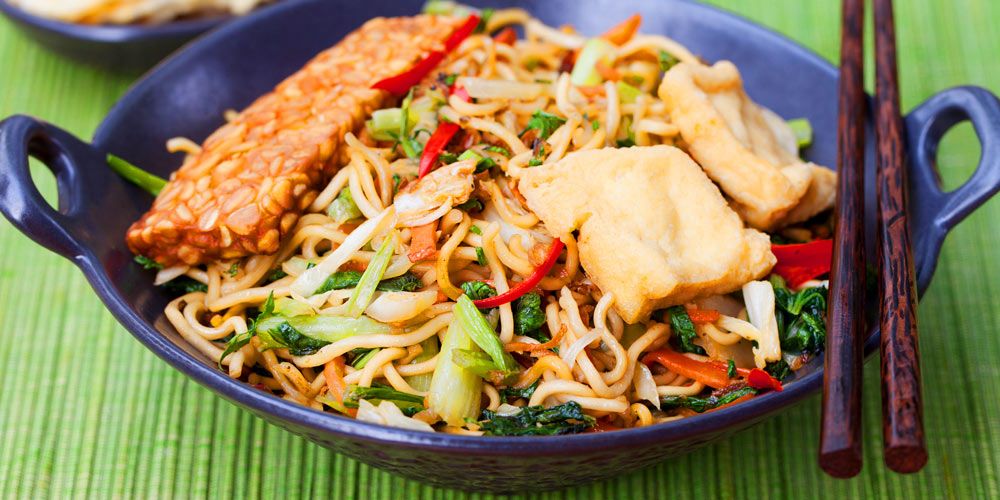 How does a delicate Japanese kombu broth, served with fried tofu that's silken on the inside, and crispy on the outside sound? (Just don't forget to say no to the bonito (tuna) flakes that are sometimes sprinkled on top.) And sushi, filled with crunchy pickled vegetables, marinated tofu or seaweed, and avocado is a great option — just check that the mayo is egg-free. If it's not, you can usually get some made up fresh — bonus!
Try asking for your black bean burrito with crisp salad, zesty guacamole and spicy salsa to be toasted for a taste and texture sensation — no need for sour cream here.
There are also plenty of traditional vegetarian Indian dishes that are also deliciously dairy-free — from the hundreds of different varieties of dal, to mixed veg curries, aloo gobi, samosas and onion bhajis — and, if needed, just ask for it without yoghurt.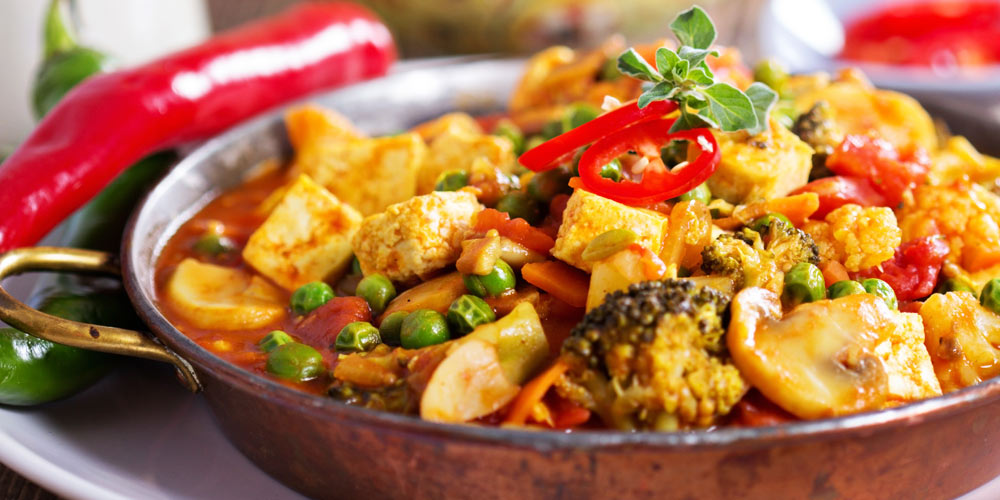 Even pizza can be given the animal-friendly treatment — think sundried tomatoes, fresh basil, oregano, grilled eggplant, artichokes, mushrooms, capsicum and olives. It's a veggie-lovers delight! Just remember to say 'Hold the cheese' — or ask if they're one of the forward-thinking restaurants that have a dairy free cheese option. And if they don't, you could give them a friendly hint that you'll be back for more, and soon, if they get vegan cheese on the menu… 🙂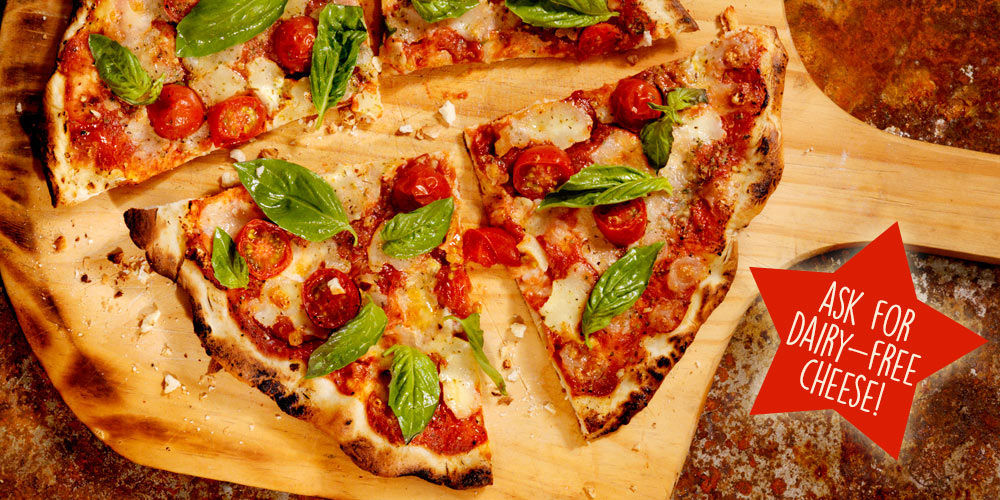 3. Make friends with the wait staff
If you're really stuck and can't see anything on the menu, our best tip is to ask the wait-staff nicely if they can help you out. Our experience is that most kitchens are very happy to whip you up something special — you're a paying customer, after all, and it gives the chef a chance to stretch their wings.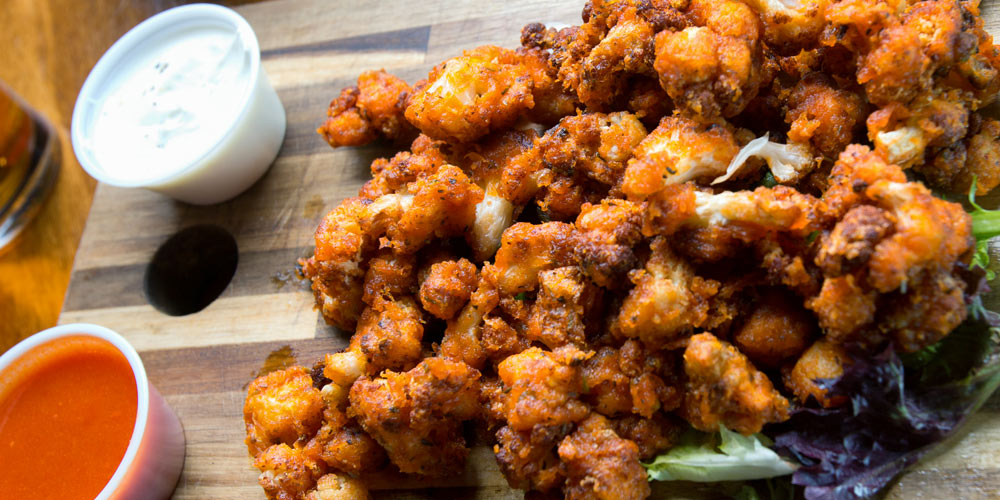 Even at the most meat-laden BBQ joint, we've managed to get a chef's special KFC (that's Korean Fried Cauliflower!), battered with some secret herbs and spices, and served with a creamy, dairy-free cashew dipping sauce. It was seriously delicious, but you never would've guessed from the grungy rock-n'roll vibe of the place that the cook was a vegan master chef — which just goes to prove it's always worth asking!
---
Veggie to go-go
We've got more tips on eating out in our Veg Starter Kit — you can order a copy for you, or for a friend, for FREE, right now:
Or, if you're keen to stay in and cook up a storm at home, you can find 100+ delicious recipes in our very first cookbook — Taste for Life!