Throats cut and thrown like rubbish: Disturbing new footage from a slaughterhouse approved by the Australian Government's live export scheme…
A lone sheep is shoved up a ramp, into a slaughterhouse. He stops, eyes frozen on the scene in front of him. Another sheep — one of his pen mates — is struggling against a blade as his throat is cut. Still fully aware, he's thrown headfirst onto the blood-soaked floor, where other sheep lay, slowly losing consciousness.
Witnessing this, the frightened sheep turns to leave. He doesn't want to be here. And in this most vulnerable moment of his grueling live export journey, he is failed one final time by the industry — he's dragged back inside to meet the same fate as those who went before him.
---
These gut-wrenching scenes were captured by Animals Australia investigators during the recent Festival of Sacrifice — a lucrative time for Australia's live export industry. It's also a peak time of animal suffering, with exporters supplying hundreds of thousands of animals for sale and slaughter across the Middle East and North Africa.
But what's most disturbing about the treatment of animals inside this facility is that it's largely 'business as usual'.
While a few breaches of Australian regulations are clear, the fully conscious slaughter that causes the most suffering to the animals, is allowed under Australia's live export rules.
The distressing footage from inside this Australian government approved slaughterhouse wasn't the only evidence of animal cruelty documented by our investigators. In 40+ degree heat, frightened Australian sheep were being manhandled and shoved into car boots and being sold for private slaughter — in blatant breach of Australia's live export regulations.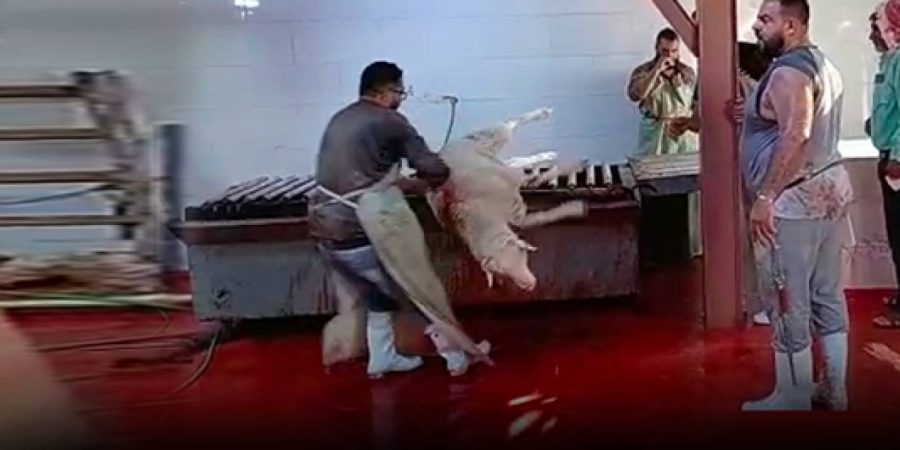 It's been ten years since regulations were introduced to ban some of the worst cruelty of live export. Every year since, Animals Australia has documented exporters breaking these rules.
Despite thousands of animals suffering as a result, not one live export company has had their license suspended. In fact, the exporter at the center of these latest allegations — Livestock Shipping Services — is a repeat offender.
---
A new Labor government the best chance we currently have of ending this trade.
When we exposed shocking footage of the routine conditions on board live export ships in 2018, Federal Labor committed to at least end the live export of sheep from Australia. With the Labor Party winning the 2022 federal election it's time to hold them to that commitment.
Take Action now
people are helping. Your details

Your message

, step of

2
Your details

Your message

Prepare to send

, step of

3
Thank you !
Your name has been added to the other taking action against animal cruelty.
Did your email program open with your pre-populated letter? If so, that's great! If not, you can copy it below and paste it into your preferred email program to send.
Help us spread the word and encourage others to sign the petition to end animal cruelty by sharing it on social media.